While we all know that we should be following a nightly bedtime routine to help improve the quality of our sleep, the reality is that sometimes… we just don't!
No screentime an hour before bed, a cut-off time for caffeine, and regular meditation are all proven to help you get to sleep, but just how many of us are actively following these recommendations?
We wanted to uncover the sleep hygiene of Americans, to see just how many are getting a good quality night's sleep every night, and the things they do that helps (or hinders) this. So, we ran a survey across 1,500 Americans across all 50 states to see exactly how they sleep. Read on to find out more…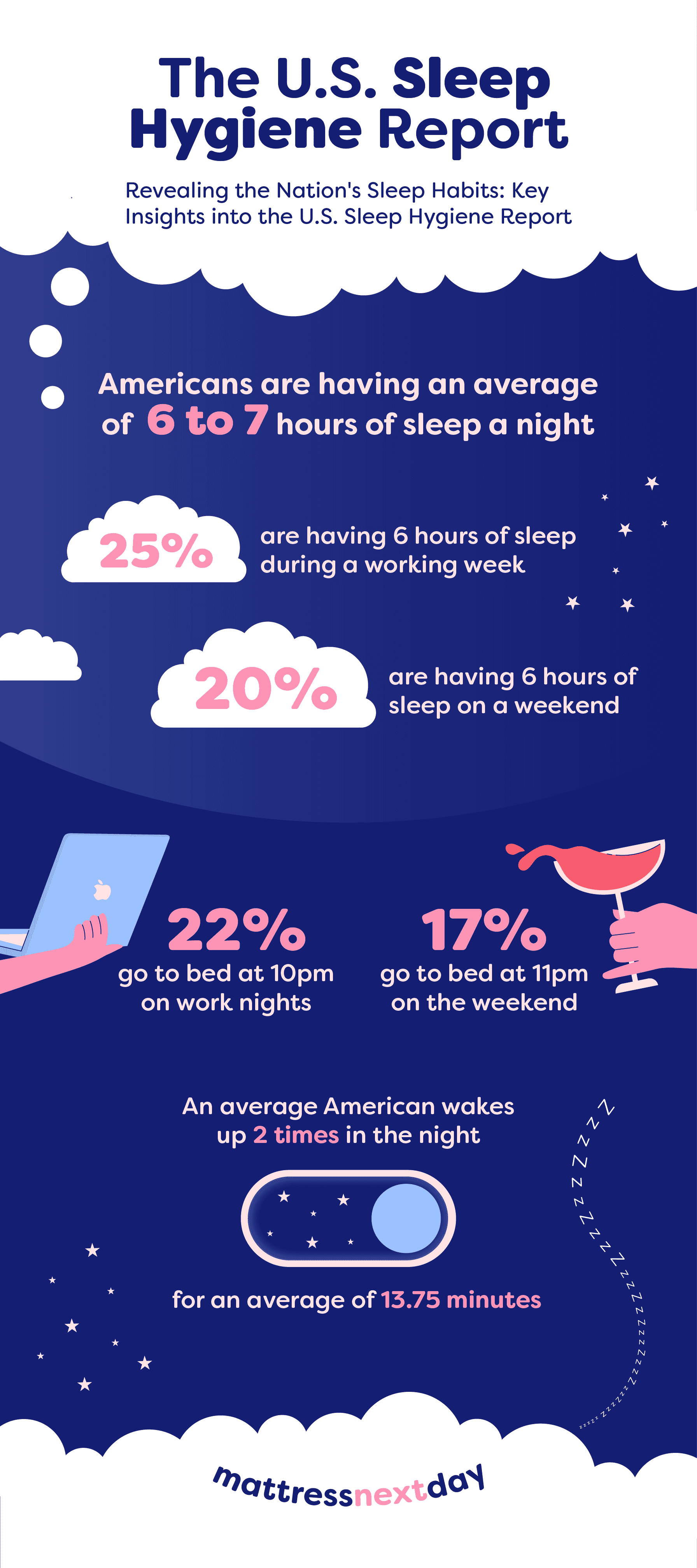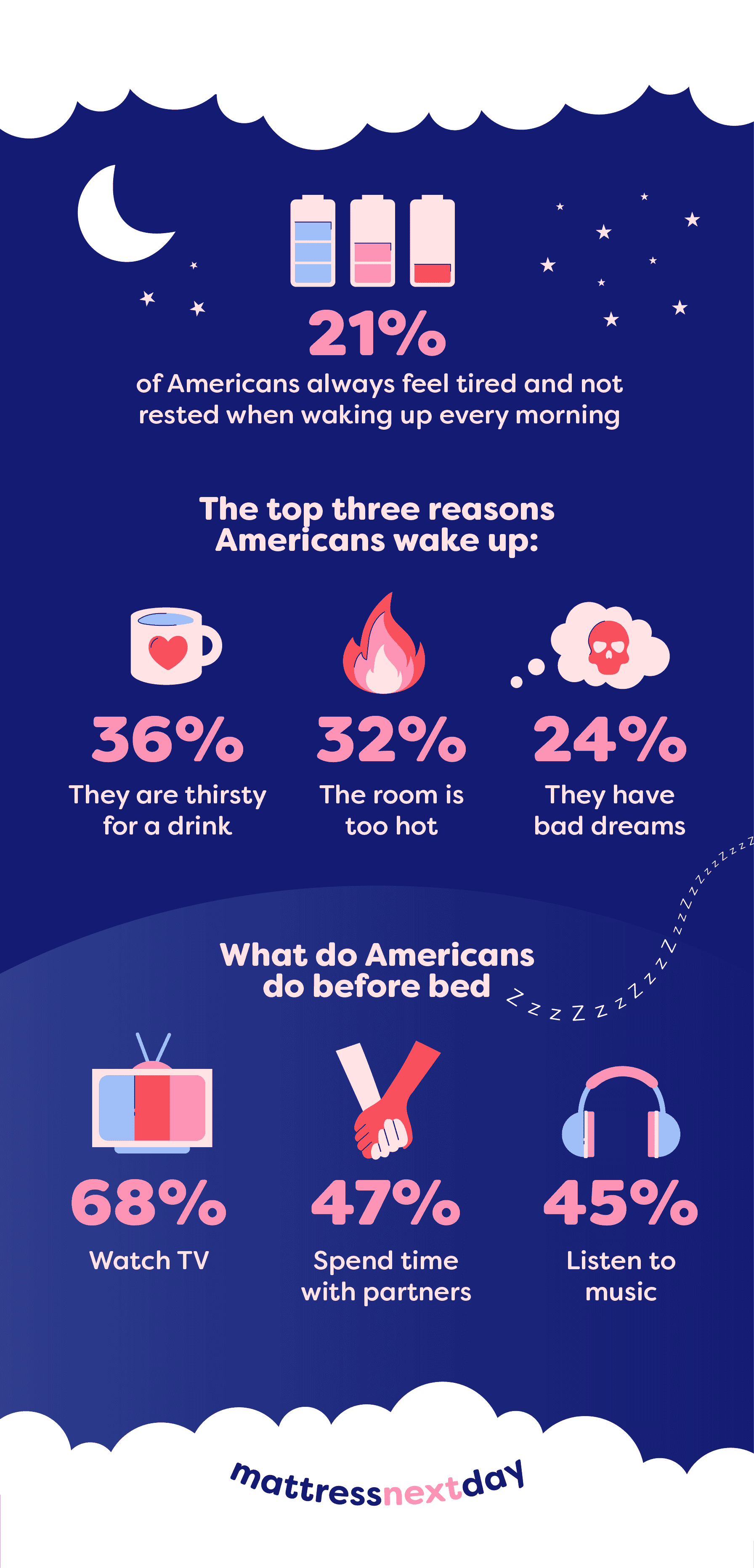 Sleep hygiene results of Americans revealed
Despite the Sleep Foundation recommending seven hours of sleep per night for healthy adults; on average, Americans are just shy of this, getting between six to seven hours of shut-eye every night. Although, 20% enjoy a longer lie-in on the weekends, at eight hours.
As a nation, it seems the US is more of an early bird than a night owl, with 40% of Americans going to bed between 10pm-11pm on a weeknight.
For 50% of Americans, waking up once or twice in the night is completely normal, taking around 13 minutes to get back to sleep again. However, for a quarter of Americans, it can take up to 30 minutes to fall back asleep, which can cause them to feel unrested the next day.
The most common reasons for waking up during the night include being thirsty (36%), the room being too hot (32%), and a bad dream (24%). If the heat's stopping you from getting to sleep, then have a read of our tips for sleeping in hot weather.
34% of Americans are guilty of drinking caffeine right before bed
Whilst two-thirds of Americans have a cut-off point for drinking caffeine to help them sleep better at night, 34% say they'll drink it whenever. And it's a similar situation with food, with 37% of respondents saying they don't have a cut-off point for snacking.
We know using electronic devices can leave you struggling to get some shut-eye, but 68% of Americans admit to using their smartphone, tablet, or computer up to an hour before bed every night – and with 45% of people saying they only feel like they've had a good night's sleep a couple of times a week, this looks like a strong correlation.
For almost 6 in 10 Americans, watching TV or movies before bed is the key way to unwind, with these relaxing TV shows the perfect watch before bed. However, one third class using their smartphone or tablet as a way to unwind; whilst reading a book, listening to music or podcasts, and having sex are also popular ways of winding down.
Finally, we asked respondents who have partners they live with whether they sleep in separate rooms, with snoring being one key cause of this. For 14% of Americans, they always sleep separately from their partners so they can get a good night's sleep, and just a third say they've never slept in separate rooms.
So, how does your sleep routine match up with the American population? If you find you're waking up feeling distinctly unrefreshed, and you know it's down to the caffeine you've been consuming, then have a read of our blog on the benefits of a good night's sleep, to see if we can convince you to step away from the coffee!
Alternatively, if you find yourself struggling to get to sleep at night because you've got back ache, then it could be time to invest in a new mattress! From memory foam mattresses to hybrids, extra firm mattresses that will provide you with all the support you need, through to super soft, it's fair to say we've got all needs covered!
We even offer a range of pillows, mattress toppers and more, to help you get a good night's sleep every night.
Methodology
We ran a national survey report on Americans: 1,500 survey respondents from 3Gen.